Cyclemeter Bike Display
On Sale! 15% Off, Now Through Dec 17.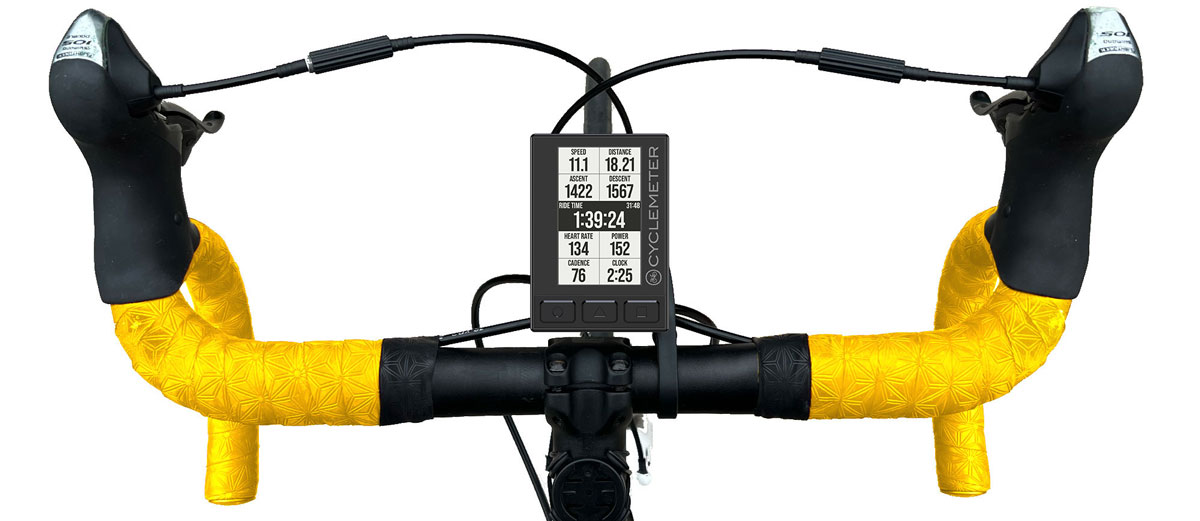 Keep your phone safely in your pocket. The Cyclemeter Bike Display wirelessly connects to Cyclemeter and gives you control over starting, stopping, marking the beginning of a new interval or segment, as well as viewing hundreds of statistics that are collected by Cyclemeter.
Powered by an easily-replaceable coin cell battery that lasts up to a year's worth of rides, it's the perfect companion to Cyclemeter.
Available now in the United States, European Union, United Kingdom, Canada, Australia, New Zealand, Japan, Mexico, and Brazil!
---
With a low profile and an easy to read screen along with three simple buttons this is a perfect companion to the Cyclemeter app. Pairing is quick and seamless and with multiple different default pages to choose from you will never need to open the app nor look at your watch while this is connected on your ride.

Noah P.
Click to read more user reviews.

The display transforms my bike stem and handlebar into a real cockpit. to help manage my rides by providing instrumentation displays of real-time metrics. It helps me with my fitness goals and pushes me to new levels of riding and enjoyment.

Neal H.

It is very good at what it does. The display is very easy to read and the simplicity of the button setup is very welcome, as you don't want to press a lot of buttons while cycling.

Victor H.

It never made sense to pay $300+ for a GPS computer when I've always got my phone in my jersey pocket. This display lets me show pretty much any piece of data I'd like (speed, distance, heart rate, power, climbs, the list seems endless) on multiple custom-designed screens. I can keep a constant eye any data I'm interested in while my phone stays safely tucked in my pocket (with its screen off to save battery).

Joe J.

Every owner of the Cyclemeter app will enjoy and benefit from this device. Those without the app will want to get it just to have this Display on their bike.

Roy H.

Even though I use Cyclemeter with my iPhone and my Apple Watch, I have found the Cyclemeter Bike Display to be a great companion! It's easy to see -- even in bright sunshine -- and allows me to get a quick view of all my important stats. I can't wait to use it on my next century!

Brian C.
---
Features
View your stats, graphs, and maps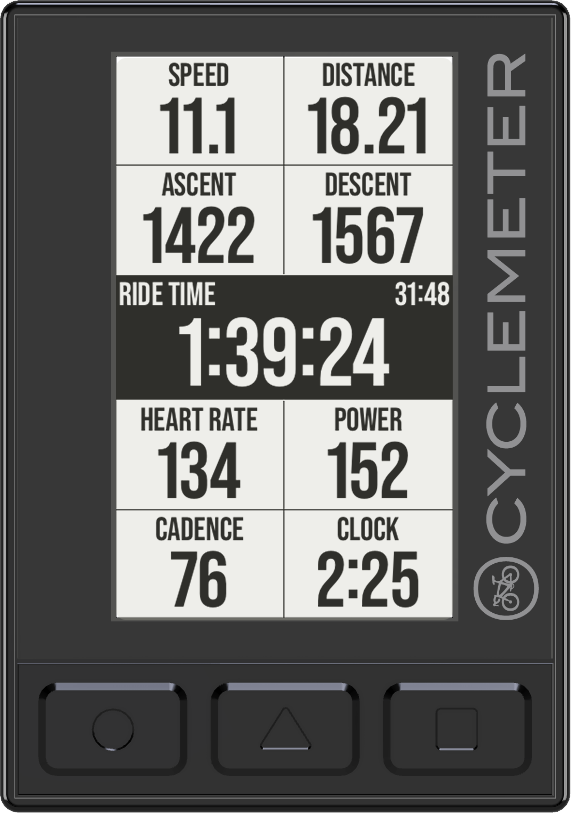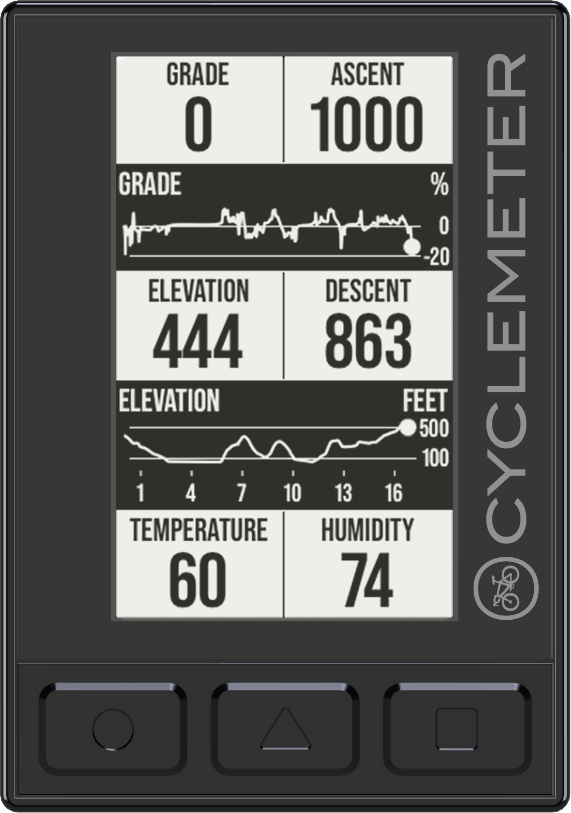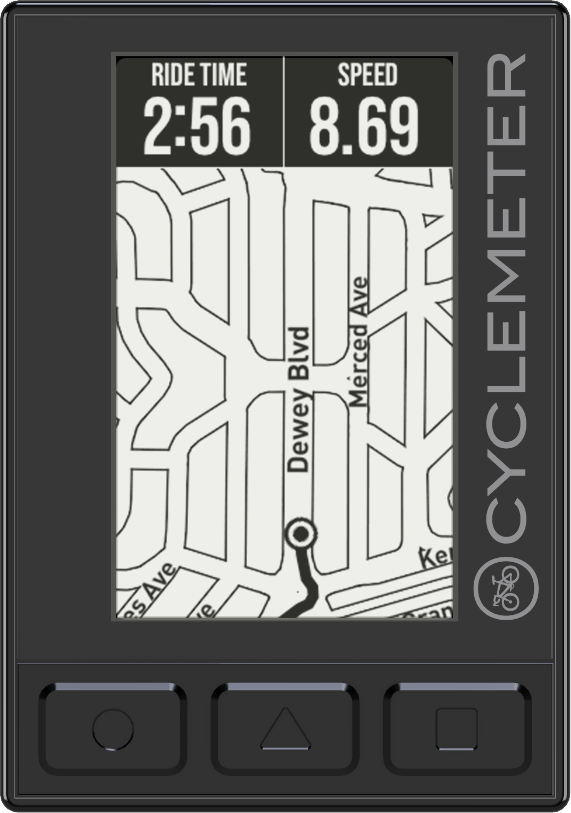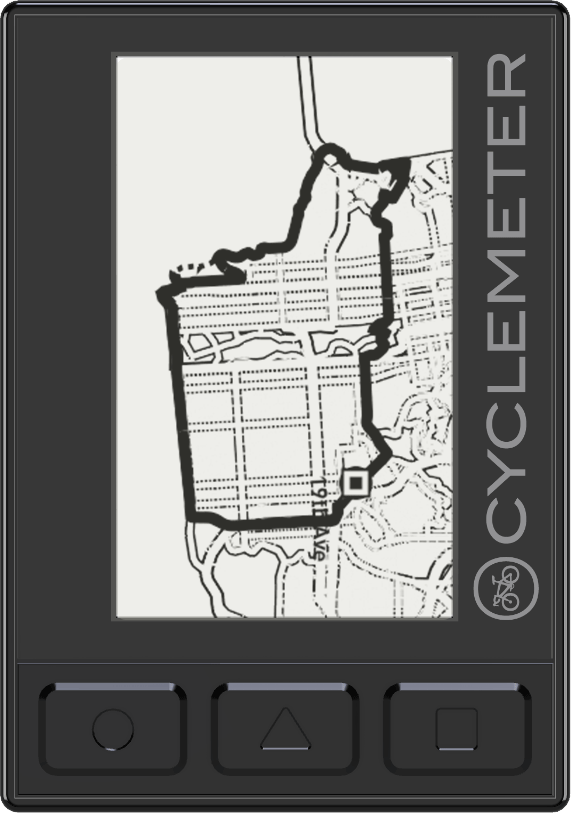 View hundreds of statistics, graphs, and maps that give you feedback and help you have your best rides ever.
Large and easy-to-read screen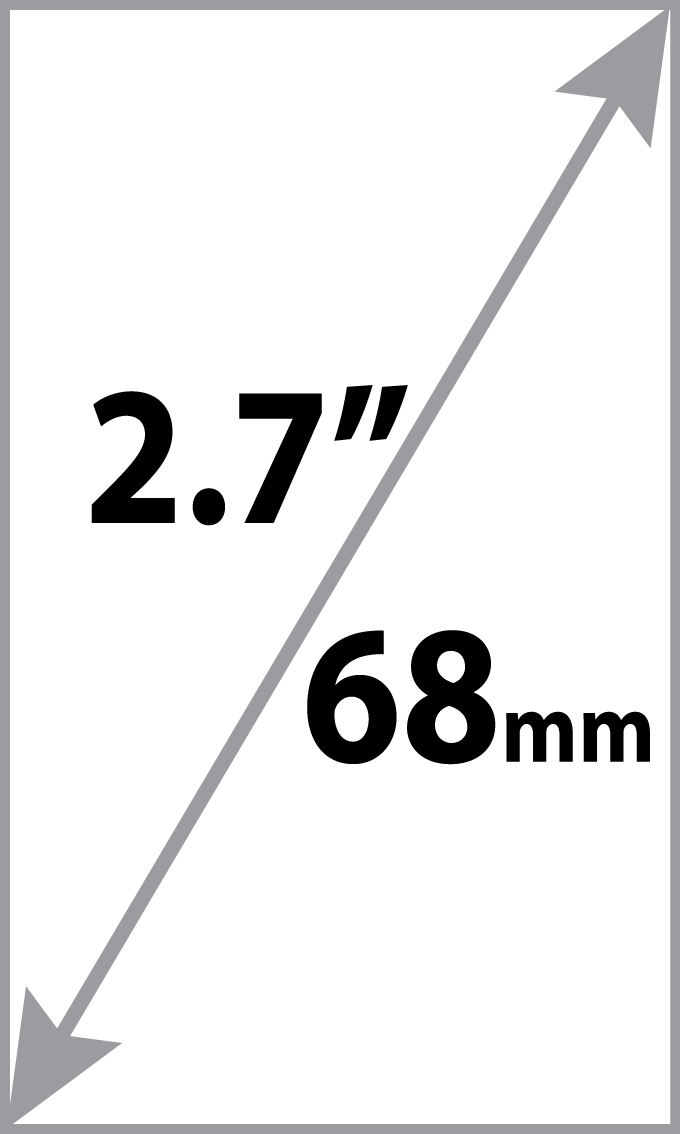 The transreflective screen is 2.7 inches (68 mm). 400 x 240 monochrome resolution. Easily readable in direct sunlight as well as on a cloudy day, unlike phone screens. Not backlit, so use it from dawn to dusk, or with a headlamp at night.
No nightly recharge hassle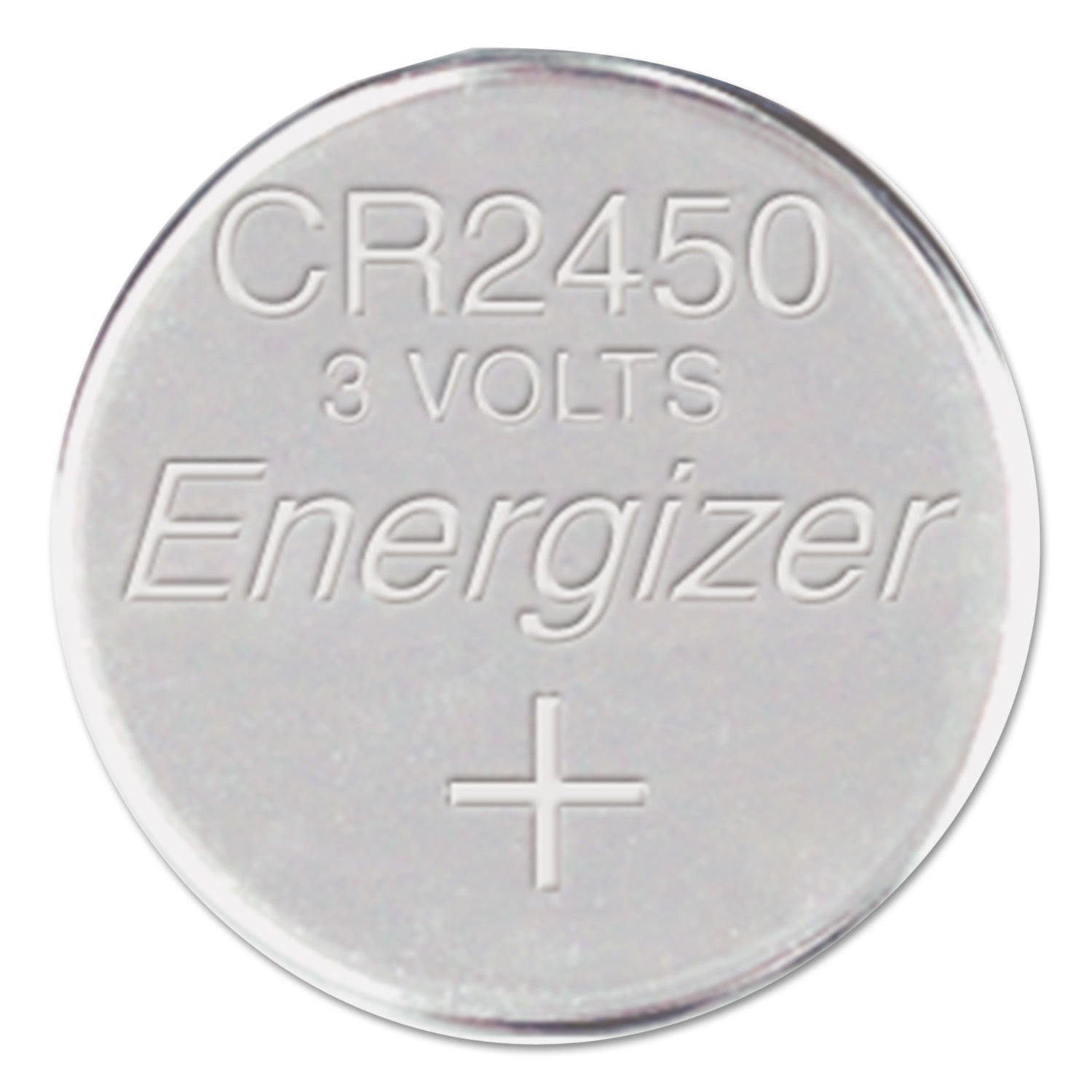 Get up to a year's worth of riding on a single inexpensive CR2450 battery (included). That's about three hours of riding every single day of the year. Easily replaceable with a standard 2mm hex wrench (included).
Three buttons, 14 actions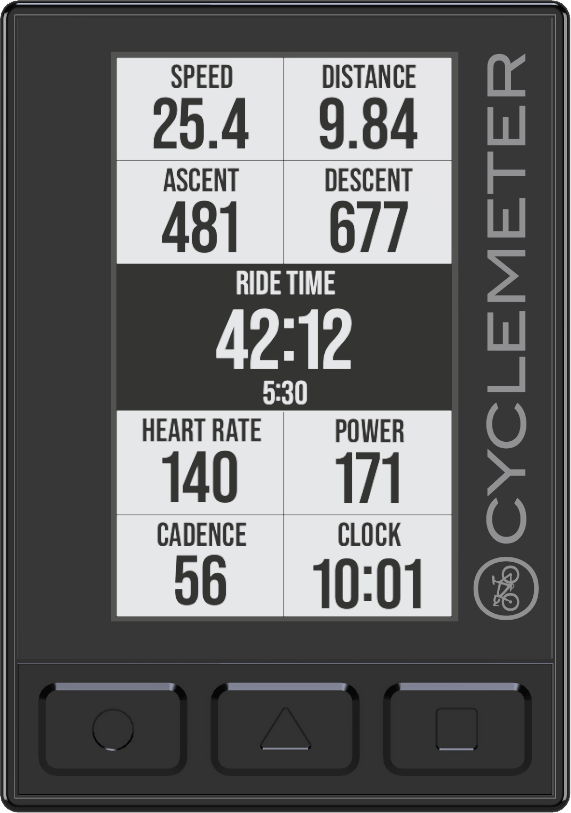 The three buttons are easily accessible on the front, and work great with gloves. Each can register a press (momentary) or hold (2 seconds). All combinations of the three buttons can be used, for up to 14 different action choices. Fully customizable.
Only 57 grams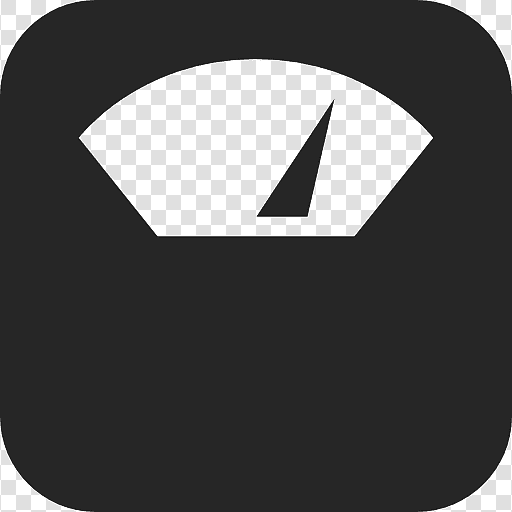 Lighter than most bike computers, it's only 57 grams. Even with its large display, it is only 88mm by 58mm by 20mm.
Control your music
Pause and play your Apple Music app, or skip ahead or back.
Make it your own
Fully customizable. The default pages automatically configure based your device setup. Modify the pages, the panes, stats, and graphs to your liking. Configure the buttons to work the way you want, too.
Here are just a few of the dozens of page templates you can use and customize.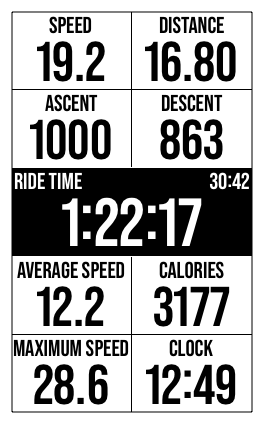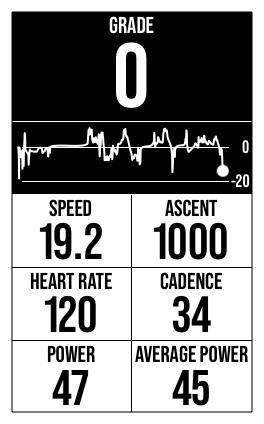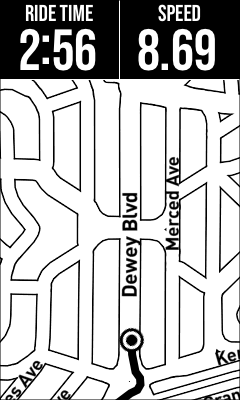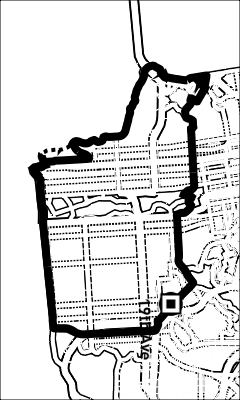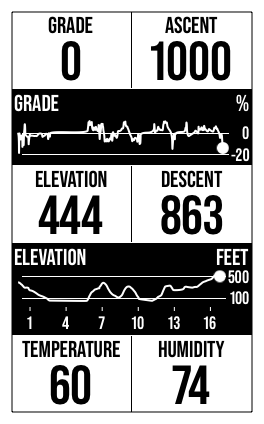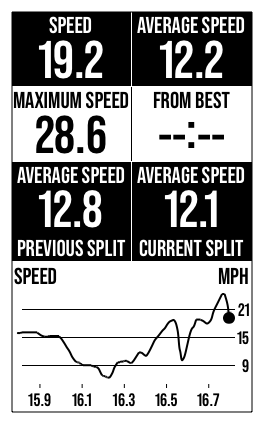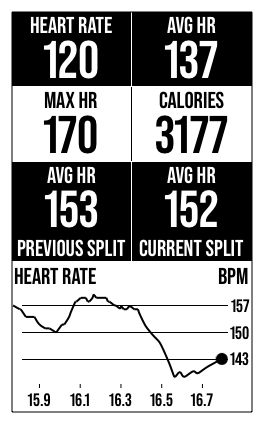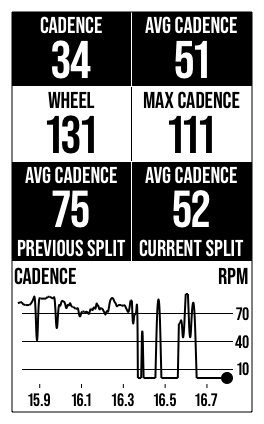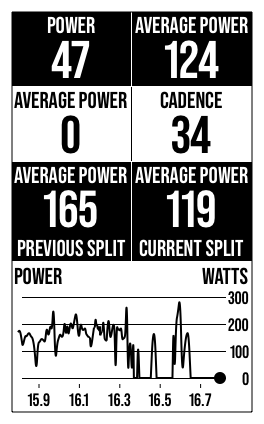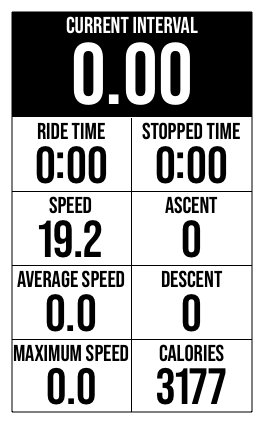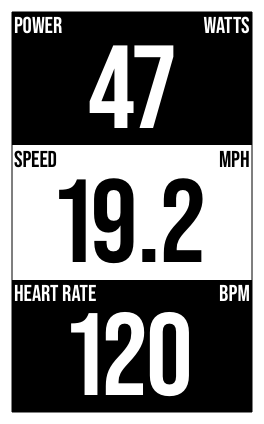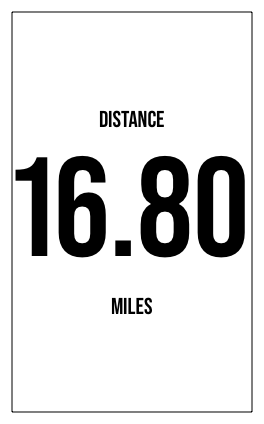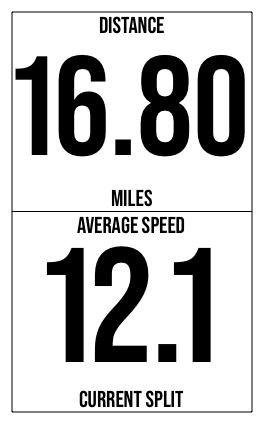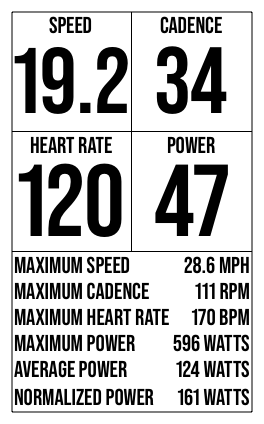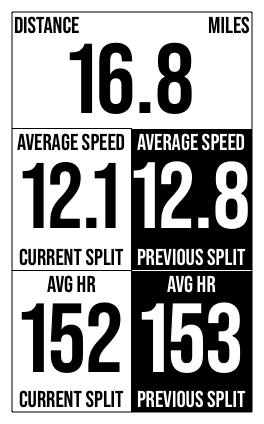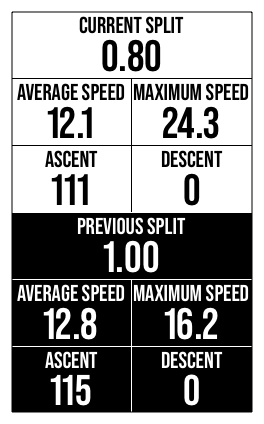 Flexible mounting options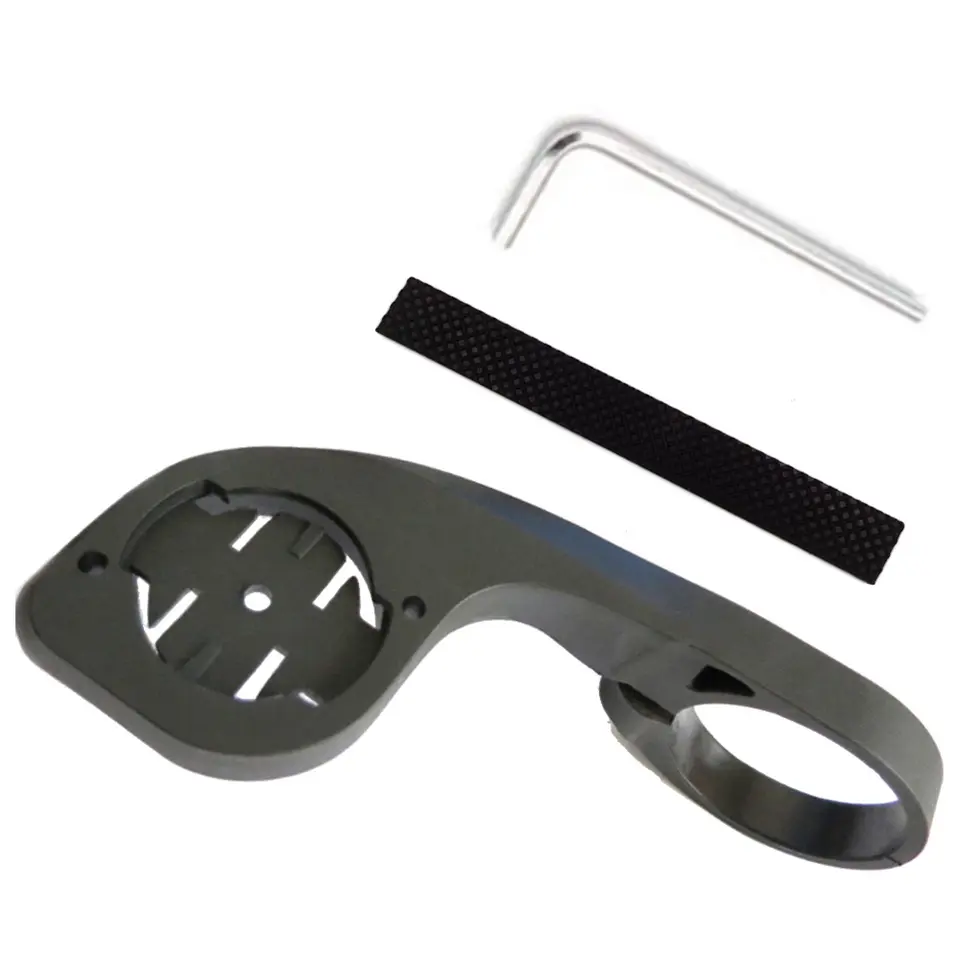 A lightweight mount for 31.8mm handlebars is included, with a reducing insert for 26mm handlebars. Or use your own mount. Any Garmin™ compatible mount works.
Weather resistant and rugged
Go ahead, ride in the rain and pedal through the mud. The Cyclemeter Bike Display is built for road cycling, mountain biking, and every day commuting.
A platform for the future
Designed by Abvio in California and assembled in the USA. The Cyclemeter Bike Display is tightly integrated with our apps, and is a platform for future improvements. The possibilities are endless.
Works with Cyclemeter, Runmeter, or Walkmeter
Requires Cyclemeter, Runmeter, or Walkmeter. Elite subscription not required, but highly recommended.
Available for iPhone
Works with any iPhone that supports iOS 12 or later. Currently not available for Android.
Available now in the United States, European Union, United Kingdom, Canada, Australia, New Zealand, and Japan!
Check in with us at support@abvio.com to find out when the Cyclemeter Bike Display will be available in your country.
Available now!
Lighter weight, a fraction of the price, and 50 times the battery life compared to most popular bike computers. Buy now!
---
Quick start
Install the included bike mount on your handlebar using the included 3mm hex wrench, centered on the stem. If your handlebar is smaller than 31.8mm, then use the included rubber insert to reduce the inner diameter of the mount.
With a quarter turn, install the bike display on the bike mount.
Press any button on the bike display to turn it on.
In Cyclemeter (or Runmeter or Walkmeter), go to More > Bike Display.
Tap Add Bike Display.
Within a few seconds you should see the bike display shown in the list. Tap it to connect to it.
You are ready to go!

---
Using your Cyclemeter Bike Display
The Cyclemeter Bike Display connects wirelessly to remotely control and display data and visuals from our app. Our app must be running to connect to the bike display.
Launch our app on your iPhone.
Optionaly get set up for your ride using our app and its powerful capabilities.
Press the ● button to start the recording of your ride.
Press the ▲ button to record a lap or an interval. Great for measuring hill intervals.
Press the ◾ button to switch between pages.
Press the ● buttton to stop the recording of your ride.
In our app, tap Done in the Stopwatch view to finish your ride.
When you tap Done at the end of the workout the display will automatically power down. You can also manually power it down by holding the ● button for two seconds.
If our app is not recording your ride, the bike display will automatically shut down after a default 10 minutes. The bike display will then show the splash screen and power down after a minute. You can change this default in More > Settings > Advanced Settings > Keep Alive.
If you see the splash screen on the bike display for more than a few seconds, just launch our app and it will connect.
---
Changing the battery
The Cyclemeter Bike Display is powered by a CR2450 coin cell battery, which will need to be replaced after up to a year's worth of rides.
Remove the four small screws on the back of the bike display using the 2mm hex wrench (included).

Pull the battery cover off the bike display. If it sticks a little, carefully force it off with your fingers.

Use a small screwdriver or other small tool to remove the old battery. Only use light pressure, and only pry it out at the very bottom of the battery holder.

Insert a fresh CR2450 battery, pushing upward toward the top.

Replace the battery cover.
Replace the screws, being careful to not overtighten them.
---
Customizing
Have your bike display at hand, and it will be automatically updated as you make changes.
Customizing pages
The simplest customization is to modify the statistic on an existing page. Here is an example for changing Descent to Humdity on the Main Statistics Page.
Go to More > Bike Display > Main Statistics.
Tap on Ascent, Descent.
Tap on Descent. You now see a list of possible statistics, with Descent chosen.
Tap on Humidity. You now have changed your bike display to show Humidity instead of Descent.
Another customization is to add a page from a list of templates.
Go to More > Bike Display > Pages to view the pages currently used by your bike display.
Tap + / Edit and then + to show the list of templates, including thumbnails.
Tap on any template to add it to the list of pages.
Tap + / Edit to reorder the pages or delete a page.
You can modify any page to your liking. Each page comprises panes of statistics, graphs and other visuals. A statistics pane can have one or two side-by-side statistics, or any number of rows.
Tap on any page to edit that page.
Tap Page Name to edit the name of the page.
Tap + / Edit to reorder or delete the panes on the page.
Tap + / Edit and then + to add a new pane.
Tap on any pane to edit that pane, then tap on a statistic to edit the chosen statistic and the features of that statistic, such as whether the text color is black or white, or how the captions and subcaptions are located.
Each pane has a pane size, which controls the vertical amount of space that the pane consumes. For example, if you have four panes with sizes of 7, 5, 3, and 5, the total of the pane sizes is 20, and so the panes will take up fractions of 7/20, 5/20, 3/20, and 5/20 of the vertical space.
Customizing buttons
The bike display comes with default button actions, and those button actions can be modified or added to at More > Bike Display > Buttons.
Each button action can be triggered by a press (momentary) or hold (2 seconds) of one, two, or three buttons. This leads to a total of 14 different possible combinations.
Note that a hold of the ● (Left) button is reserved for powering down the display.
Tap + / Edit to reorder or delete the button actions on the page.
Tap + / Edit and then + to add a new button action.
---
Support
If you have any questions, please contact us at support@abvio.com. We are happy to help!